Austria
Austria, officially the Republic of Austria, is a landlocked East Alpine country in the southern part of Central Europe. It is composed of nine federated states, one of which is Vienna, Austria's capital and largest city.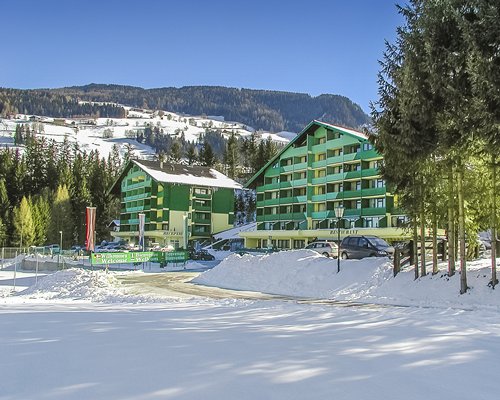 Alpine Club
The resort is situated at a hillside very close to the famous downhill course 'Planai' and only 1 km above the town of Schladming. The Dachstein-Tauern winter sports area offers not only skiing, but also tobogganing, ice skating, and curling. The area is also attractive during the summer, you can go walking, biking and rafting. Even skiing is possible during the summer at the Dachstein glacier, 3000m above sea level. The resort offers many activities. There is also a heated indoor pool, a sauna, restaurant and bar.
Ferienclub Grundlsee - Mondi
Mondi-Holiday Grundlsee is located on the shores of picturesque Grundlsee Lake in the famous Salzkammergut area. During the summer, the area is very popular with hikers, who can enjoy the lovely mountain scenery. It is especially beautiful in spring and autumn. There are boats for rent on the lake, horseback riding, and a fitness trail nearby. In winter, there is a network of cross-country skiing trails close by and a choice of downhill ski areas within a 15 to 35 minute drive.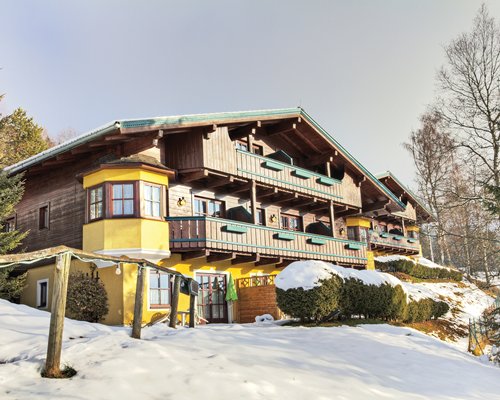 Golf - Und Ferienclub Amadeus
Golf und Ferienclub Amadeus is an ideal place for a skiing holiday. Located in the pretty village of Radstadt, the region offers over 400 ski lifts, cross-country trails for all levels of skiers, and romantic sleigh rides for those who prefer to relax. In summer, the resort is ideal for walking, fishing, tennis, summer skiing, bowling and cycling. The resort is built in typical local style, and the units are very comfortably furnished.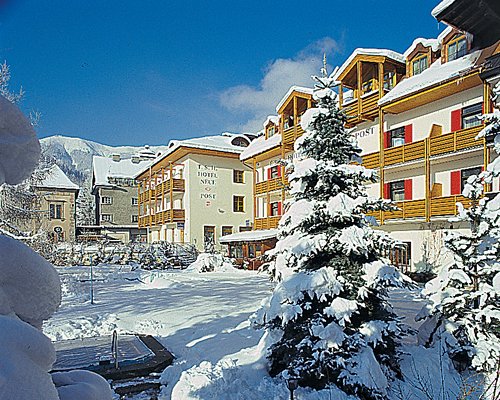 Hotel Neue Post
Neue Post in the heart of Zell am See, is ideal for both a relaxing or active holiday. There are many sporting facilities at the lake, just a few minutes' walk away, and ski slopes and tennis courts nearby, as well as a golf course which is approx. 2 kms away. Summer leisure activities centre around the large garden with barbecue parties held beside the heated-pool. Indoors, the facilities include a restaurant, sauna, 2 whirlpools and fitness centre. All rooms have cable colour-TV and minibar.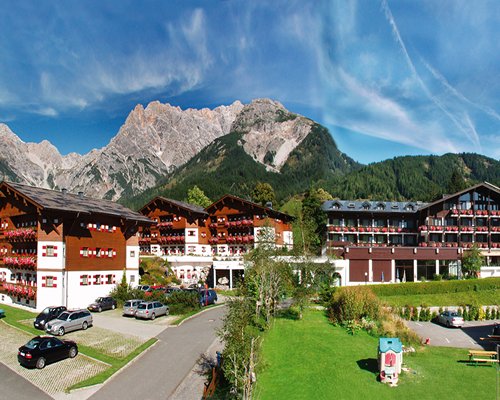 Marco Polo Club Alpina
The beautiful mountain village of Hinterthal is close to a very popular holiday region situated south of Salzburg. Marco Polo Club-Hotel Alpina provides high-quality accommodation and is located in a wonderful ski area. In summer, play tennis or golf, hike, or go mountain biking. The resort offers a sauna, steam room, fitness and massage room for your relaxation and many facilities for children. There is also a restaurant, a bar and a shop on site.